About Us
Green Jade is a Chinese takeaway in Broxburn. Why don't you try our Noodles with Sauce or Char Siu with Ginger & Spring Onions?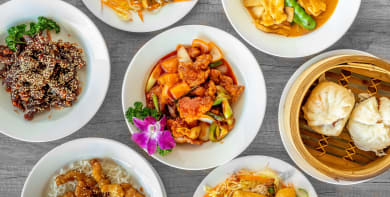 Reviews
82 reviews
Pauline
"So tasty and food delivered early. Excellent."
08/08/2020
Pauline
"What a fantastic meal! Food was delicious and delivered early."
31/07/2020
Georgina
"Another beautiful Meal from Green Jade..."
05/07/2020
Melanie
"Always a good quality and friendly service"
13/06/2020
Menu
Roast Duck Kung Po
Hot
Contains nuts
£6.10
Mixed Meat Kung Po
Hot
Contains nuts
£6.00
King Prawn Kung Po
Hot
Contains nuts
£6.10
House Special Kung Po
Hot
Contains nuts
£6.10
Beef Kung Po
Hot
Contains nuts
£5.30
Char Siu (Roast Pork) Kung Po
Hot
Contains nuts
£5.30
Chicken Kung Po
Hot
Contains nuts
£5.30
Chicken Mushroom & Noodle Soup
£2.60
Crab Meat & Sweetcorn Soup
£2.70
Vegetarian Hot & Sour Soup
Hot
Suitable for vegetarians
£2.40
King Prawn Thai Curry Green
£6.20
King Prawn Thai Curry Red
£6.20
Char Siu (Roast Pork) Szechuan
Hot
£5.30
House Special Szechuan
Hot
£6.10
Roast Duck in Black Bean Sauce
Roast Duck with Bean Sprouts in BBQ Sauce
Roast Duck with Mushrooms
Roast Duck with Roast Pork
Roast Duck with Sweet Ginger & Pineapple
Chicken with Sweet Ginger & Pineapple
Chicken with Bean Sprouts
Chicken with Ginger & Spring Onion
Chicken with Green Pepper in Black Bean Sauce
Chicken with Mixed Vegetables
King Prawn with Ginger & Spring Onion
King Prawn with Green Pepper in Black Bean Sauce
King Prawn with Mixed Vegetables
King Prawn with Sweet Ginger & Pineapple
Mussels with Black Bean Sauce
Squid with Ginger & Spring Onions
Fillet Steak with Ginger & Spring Onions
£7.20
Fillet Steak Cantonese Style
Fillet Steak with Black Bean Sauce
Beef with Sweet Ginger & Pineapple
Beef with Green Pepper in Black Bean Sauce
Beef with Mixed Vegetables
Beef with Ginger & Spring Onion
Roast Duck with Bean Sprouts in BBQ Sauce
Roast Duck with Mushrooms
Roast Duck with Roast Pork
Roast Duck with Sweet Ginger & Pineapple
Salt & Pepper King Prawns
Squid with Ginger & Spring Onions
Mixed Vegetables with Black Bean Sauce
Mixed Vegetables with Egg Foo Yung
Mixed Vegetables with Curry Sauce
King Prawn with Sweet Ginger & Pineapple
King Prawn with Mixed Vegetables
King Prawn with Honey & Chilli Sauce
King Prawn with Cashew Nuts in Yellow Bean Sauce
King Prawn with Ginger & Spring Onion
King Prawn with Green Pepper in Black Bean Sauce
Pineapple Fritters with Syrup
Roast Duck in Peking Sauce
Roast Duck in Black Bean Sauce
Roast Duck in Black Pepper Sauce
Mixed Vegetables with Szechuan Sauce
Mussels with Black Bean Sauce
Mixed Vegetables with Sweet & Sour Sauce
Mixed Vegetables with Satay Sauce
Mixed Vegetables with Lar Chee Sauce
Mixed Vegetables with Kung Po Sauce
Fillet Steak Cantonese Style
Fillet Steak with Black Bean Sauce
Fillet Steak with Ginger & Spring Onions
£7.20
Crispy Shredded Chicken with Salt & Pepper
Crispy Shredded Chicken with Salt & Pepper
Crispy Shredded Beef in OK Sauce
Crispy Shredded Beef with Chilli Sauce
Crispy Shredded Beef with Salt & Pepper
Crispy Shredded Beef with Honey & Chilli Sauce
Crispy Shredded Chicken with Chilli Sauce
Crispy Shredded Chicken with Honey & Chilli
King Prawn with Cashew Nuts
House Special Chilli Chicken
Char Siu in Black Pepper Sauce
Char Siu with Bean Sprouts
Char Siu with Cashew Nuts
Char Siu with Cashew Nuts in Yellow Bean Sauce
Char Siu with Ginger & Spring Onions
Char Siu with Green Pepper in Black Bean Sauce
Beef with Sweet Ginger & Pineapple
Beef with Mixed Vegetables
Beef with Ginger & Spring Onion
Beef with Green Pepper in Black Bean Sauce
Beef with Cashew Nuts
Contains nuts
Beef with Cashew Nuts in Yellow Bean Sauce
Banana Fritters with Syrup
Beef in Black Pepper Sauce
2 x Chicken Mushroom Soup
2 x Chicken Sweetcorn Soup
3 x Chicken Mushroom Soup
3 x Chicken Sweetcorn Soup
4 x Chicken Mushroom Soup
4 x Chicken Sweetcorn Soup
Chef's Special Tangerine Chicken
Chicken in Black Pepper Sauce
Char Siu with Mixed Vegetable
Char Siu with Sweet Ginger & Pineapple
Chicken with Sweet Ginger & Pineapple
Chicken with Bean Sprouts
Chicken with Cashew Nuts
Contains nuts
Chicken with Ginger & Spring Onion
Chicken with Green Pepper in Black Bean Sauce
Chicken with Cashew Nuts in Yellow Bean Sauce
Contains nuts
Chicken with Garlic & Chilli Sauce
Chicken with Mixed Vegetables
Char Siu with Green Pepper in Black Bean Sauce
Char Siu with Mixed Vegetable
Char Siu with Ginger & Spring Onions
Char Siu with Bean Sprouts
Char Siu with Sweet Ginger & Pineapple
Char Siu (Roast Pork) Egg Foo Yung
£5.20
House Special Egg Foo Yung
£6.10
Banana Fritter with Syrup
£2.40
Pineapple Fritter with Syrup
£2.40
Roast Duck in Black Bean Sauce
£6.20
Roast Duck in Peking Sauce
Hot
£6.20
Roast Duck with Bean Sprouts in BBQ Sauce
£6.20
Roast Duck with Mushrooms
£6.20
Roast Duck with Roast Pork
£6.20
Roast Duck with Sweet Ginger & Pineapple
£6.20
Roast Duck in Black Pepper Sauce
Hot
£6.20
House Special Chilli Chicken
Hot
£6.00
Chef's Special Tangerine Chicken
£6.00
Crispy Shredded Chicken with Chilli Sauce
Hot
£6.00
Crispy Shredded Chicken with Honey & Chilli
Sauce
Hot
£6.00
Crispy Shredded Chicken with Salt & Pepper
Hot
£6.00
Salt & Pepper Chicken
Hot
£6.00
Chicken with Garlic & Chilli Sauce
Hot
£6.00
Chicken with Green Pepper & Black Bean Sauce
£5.40
Chicken with Ginger & Spring Onion
£5.40
Chicken with Cashew Nuts in Yellow Bean Sauce
Contains nuts
£5.50
Chicken with Sweet Ginger & Pineapple
£5.40
Chicken with Mixed Vegetables
£5.30
Chicken with Bean Sprouts
£5.30
Chicken with Cashew Nuts
Contains nuts
£5.50
Chicken in Black Pepper Sauce
Hot
£5.40
Chicken with OK Sauce
Contains nuts
£6.10
Salt & Pepper Chicken Balls (8)
Hot
£6.00
Garlic & Chilli Squid
Hot
£6.00
King Prawn in OK Sauce
Contains nuts
£6.00
King Prawn with Cashew Nuts in Yellow Bean Sauce
Contains nuts
£6.00
King Prawn with Cashew Nuts
Contains nuts
£6.00
King Prawn with Honey & Chilli Sauce
Hot
£6.00
Salt & Pepper King Prawns
Hot
£6.00
Mussels with Black Bean Sauce
£6.00
King Prawn with Green Pepper & Black Bean Sauce
£6.00
Squid with Ginger & Spring Onions
£6.00
King Prawn with Ginger & Spring Onion
£6.00
King Prawn with Sweet Ginger & Pineapple
£6.00
King Prawn with Mixed Vegetables
£6.00
Crispy Shredded Beef with Salt & Pepper
Hot
£6.10
Crispy Shredded Beef with Chilli Sauce
Hot
£6.10
Crispy Shredded Beef with Honey & Chilli Sauce
Hot
£6.10
Crispy Shredded Beef in OK Sauce
Contains nuts
£6.10
Beef in Black Pepper Sauce
Hot
£5.40
Beef with Cashew Nuts
Contains nuts
£5.50
Beef with Cashew Nuts in Yellow Bean Sauce
Contains nuts
£5.30
Fillet Steak Cantonese Style
£7.60
Fillet Steak with Ginger & Spring Onion
£7.60
Fillet Steak with Black Bean Sauce
£7.60
Beef with Green Pepper & Black Bean Sauce
£5.40
Beef with Mixed Vegetable
£5.30
Beef with Ginger & Spring Onion
£5.40
Beef with Sweet Ginger & Pineapple
£5.40
Char Siu (Roast Pork) Chop Suey
£5.20
Char Siu with Green Pepper in Black Bean Sauce
£5.30
Char Siu with Mixed Vegetable
£5.00
Char Siu with Ginger & Spring Onions
£5.30
Char Siu with Cashew Nuts in Yellow Bean Sauce
Contains nuts
£5.40
Char Siu with Sweet Ginger & Pineapple
£5.30
Char Siu with Bean Sprouts
£5.20
Char Siu with Cashew Nuts
Contains nuts
£5.40
Char Siu in Black Pepper Sauce
Hot
£5.30
Hot Chilli & Pepper Tofu
Hot
Suitable for vegetarians
£4.90
Mixed Vegetables with Sweet & Sour Sauce
Suitable for vegetarians
£4.60
Mixed Vegetables with Szechuan Sauce
Hot
Suitable for vegetarians
£4.60
Mixed Vegetables with Egg Foo Yung
Suitable for vegetarians
£4.60
Mixed Vegetables with Kung Po Sauce
Hot 
Suitable for vegetarians
Contains nuts
£4.60
Mixed Vegetables with Lar Chee Sauce
Hot
Suitable for vegetarians
£4.60
Mixed Vegetables with Satay Sauce
Suitable for vegetarians
Contains nuts
£4.60
Mixed Vegetables with Black Bean Sauce
Suitable for vegetarians
£4.60
Mixed Vegetables with Curry Sauce
Hot
Suitable for vegetarians
£4.60
Stir Fried Bean Sprouts
Suitable for vegetarians
£3.40
Stir Fried Mushrooms
Suitable for vegetarians
£3.40
Stir Fried Onions
Suitable for vegetarians
£3.40
Sweet & Sour Tofu
Suitable for vegetarians
£4.90
Salt & Pepper Tofu
Hot
Suitable for vegetarians
£4.90
Char Siu (Roast Pork) Lar Chee
Hot
£5.30
House Special Lar Chee
Hot
£6.10
Singapore Rice Noodle
Hot
£6.40
Mixed Vegetable Chow Mein
£5.60
Char Siu (Roast Pork) Chow Mein
£6.10
Chicken Omelette with Chips
£6.20
Chicken Maryland with Chips
£7.10
Char Siu (Roast Pork) Omelette with Chips
£6.20
King Prawn Omelette with Chips
£6.60
Grilled Chicken Breast with Chips
£6.60
Mushroom Omelette with Chips
Suitable for vegetarians
£5.80
Plain Omelette with Chips
Suitable for vegetarians
£5.60
House Special Omelette with Chips
£6.40
Soft Noodles
Suitable for vegetarians
£3.60
Salt & Pepper Chips
Hot
Suitable for vegetarians
£3.70
Fried Rice
Suitable for vegetarians
£2.30
Chips
Suitable for vegetarians
£2.30
Boiled Rice
Suitable for vegetarians
£2.20
Rice & Noodles with Sauce
£4.40
Char Siu (Roast Pork) Fried Rice
£6.00
Mixed Vegetable Fried Rice
£5.60
Set Meal for Four Regular
4 x soups (chicken noodle soup OR chicken sweetcorn soup OR chicken mushroom soup)
1 x half crispy aromatic duck (served with pancakes & sauce)
4 x main courses (any of the chicken OR beef OR pork OR vegetable dishes)
4 x fried rice OR boiled rice OR chips
Banana OR pineapple fritters with syrup
Prawn crackers
Duck, prawn, seafood dishes £1 extra
Noodles 50p extra
£44.80
Set Meal for Four Special
4 x soups (chicken noodle soup OR chicken sweetcorn soup OR chicken mushroom soup)
1 x half crispy aromatic duck (served with pancakes & sauce)
4 x main courses (any of the chicken OR beef OR pork OR vegetable dishes)
4 x fried rice OR boiled rice OR chips
Banana OR pineapple fritters with syrup
Prawn crackers
Duck, prawn, seafood dishes £1 extra
Noodles 50p extra
£45.80
Set Meal for Three Regular
3 x soups (chicken noodle soup OR chicken sweetcorn soup OR chicken mushroom soup)
1 x quarter crispy aromatic duck (served with pancakes & sauce)
3 x main courses (any one of the chicken OR beef OR pork OR vegetable dishes)
3 x fried rice OR boiled rice OR chips
Banana OR pineapple fritters with syrup
Prawn crackers
Duck, prawn, seafood dishes £1 extra
Noodles 50p extra
£34.80
Set Meal for Three Special
3 x soups (chicken noodle soup OR chicken sweetcorn soup OR chicken mushroom soup)
1 x quarter crispy aromatic duck (served with pancakes & sauce)
3 x main courses (any one of the chicken OR beef OR pork OR vegetable dishes)
3 x fried rice OR boiled rice OR chips
Banana OR pineapple fritters with syrup
Prawn crackers
Duck, prawn, seafood dishes £1 extra
Noodles 50p extra
£35.80
Set Meal for Two Regular
2 x soups (chicken noodle soup OR chicken sweetcorn soup OR chicken mushroom soup)
2 x appetisers (prawn toast OR barbecued ribs OR spring roll)
2 x main courses (any one of the chicken OR beef OR pork OR vegetable dishes)
2 x fried rice OR boiled rice OR chips
Banana OR pineapple fritters with syrup
Prawn crackers
Duck, prawn, seafood dishes £1 extra
Noodles 50p extra
£25.80
Set Meal for Two Special
2 x soups (chicken noodle soup OR chicken sweetcorn soup OR chicken mushroom soup)
2 x appetisers (prawn toast OR barbecued ribs OR spring roll)
2 x main courses (any one of the chicken OR beef OR pork OR vegetable dishes)
2 x fried rice OR boiled rice OR chips
Banana OR pineapple fritters with syrup
Prawn crackers
Duck, prawn, seafood dishes £1 extra
Noodles 50p extra
£26.80
Roast Duck Satay
Hot
Contains nuts
£6.10
Mixed Meat Satay
Hot
Contains nuts
£6.00
King Prawn Satay
Hot
Contains nuts
£6.10
House Special Satay
Hot
Contains nuts
£6.10
Beef Satay
Hot
Contains nuts
£5.30
Char Siu (Roast Pork) Satay
Hot
Contains nuts
£5.30
Chicken Satay
Hot
Contains nuts
£5.30
Sweet & Sour Chicken Cantonese Style
£5.50
Sweet & Sour Chicken in Batter Balls (8)
£5.50
Sweet & Sour King Prawn Balls (8)
£6.20
Sweet & Sour King Prawn Cantonese Style
£6.20
Sweet & Sour Pork Cantonese Style
£5.50
Sweet & Sour Pork in Batter Balls (8)
£5.50
Spring Rolls with Sweet & Sour Sauce (2)
Chicken, char siu & mixed vegetables
£3.20
Spare Ribs in Honey Chilli Sauce
Hot
£5.80
Spare Ribs in Peking Sauce
£5.80
Salt & Pepper Chicken Wings
Hot
£4.70
Salt & Pepper Spare Ribs
Hot
£5.80
Mini Vegetable Spring Rolls with Sweet & Sour
Sauce (10)
Suitable for vegetarians
£3.20
Salt & Pepper Onion Rings
Hot
£3.50
Mixed Starter
Spring rolls, seaweed, sesame prawn on toast & hot chicken wings
£8.70
House Special Platter (For 2 People)
BBQ ribs, chicken satay skewers, crispy wonton & vegetable spring rolls
£10.00
Crispy Aromatic Duck Half
£15.20
Crispy Aromatic Duck Quarter
£8.70
Crispy Aromatic Duck Whole
£28.20
Crispy Duck Rolls with Hoisin Sauce (3)
£3.70
Crispy Wonton with Sweet & Sour Sauce
£4.00
Chicken Satay on Skewers (4)
Contains nuts
Hot
£5.20
Chicken Wings in Honey Chilli Sauce
Hot
£4.70
Munchy Box A
Salt & pepper ribs
Salt & pepper shredded chicken
Salt & pepper chicken wings
Salt & pepper chips
Chicken balls
Onion rings
Mini spring rolls
Choice of one sauce: sweet & sour, curry OR BBQ sauce
Can of juice
£14.50
Munchy Box B
Fried rice
Chips
Chicken balls
Chicken wings
Spare ribs
Choice of two sauces: sweet & sour, curry OR BBQ sauce
Can of juice
£14.50
Meal Deal for One Regular
1 x soup (chicken noodle soup OR chicken sweetcorn soup OR chicken mushroom soup)
1 x appetiser (prawn on toast OR barbecued ribs OR spring roll)
1 x main course (any one of the chicken OR beef OR pork OR vegetable dishes)
1 x fried rice OR boiled rice OR chips
Duck, prawn, seafood dishes £1 extra
Noodles 50p extra
Not including rice dish or chow mein dish
£10.50
Meal Deal for One Special
1 x soup (chicken noodle soup OR chicken sweetcorn soup OR chicken mushroom soup)
1 x appetiser (prawn on toast OR barbecued ribs OR spring roll)
1 x main course (any one of the chicken OR beef OR pork OR vegetable dishes)
1 x fried rice OR boiled rice OR chips
Duck, prawn, seafood dishes £1 extra
Noodles 50p extra
Not including rice dish or chow mein dish
£11.50
Satay Sauce
Contains nuts
£2.30
Kung Po Sauce
Hot
Contains nuts
£2.30
Char Siu (Roast Pork) Curry
Hot
£5.30
Contact Us
Find Us
29 Greendykes Road, Broxburn, EH525AF
We deliver to
EH28, EH29, EH49, EH52