About Us
Green Jade is a Chinese takeaway in Broxburn. Why don't you try our Noodles with Sauce or Char Siu with Ginger & Spring Onions?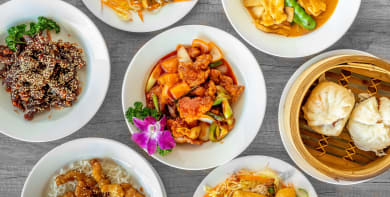 Reviews
98 reviews
Paul
"Again a tasty scrumptious hot meal delivered..."
05/05/2021
Paul
"Tasty and Tummy filling..."
17/04/2021
Nicola
"Great food, always on time and hot 👍🏻"
17/04/2021
joanne
"Order from here all the time absolutely love it never had a bad chinese love love love highly recommend!!!"
14/04/2021
Menu
Meal Deal for One Regular
1 x soup (chicken noodle soup OR chicken sweetcorn soup OR chicken mushroom soup)
1 x appetiser (prawn on toast OR barbecued ribs OR spring roll)
1 x main course (any one of the chicken OR beef OR pork OR vegetable dishes)
1 x fried rice OR boiled rice OR chips
Duck, prawn, seafood dishes £1 extra
Noodles 50p extra
Not including rice dish or chow mein dish
£10.50
Meal Deal for One Special
1 x soup (chicken noodle soup OR chicken sweetcorn soup OR chicken mushroom soup)
1 x appetiser (prawn on toast OR barbecued ribs OR spring roll)
1 x main course (any one of the chicken OR beef OR pork OR vegetable dishes)
1 x fried rice OR boiled rice OR chips
Duck, prawn, seafood dishes £1 extra
Noodles 50p extra
Not including rice dish or chow mein dish
£11.50
Munchy Box A
Salt & pepper ribs
Salt & pepper shredded chicken
Salt & pepper chicken wings
Salt & pepper chips
Chicken balls
Onion rings
Mini spring rolls
Choice of one sauce: sweet & sour, curry OR BBQ sauce
Can of juice
£14.50
Munchy Box B
Fried rice
Chips
Chicken balls
Chicken wings
Spare ribs
Choice of two sauces: sweet & sour, curry OR BBQ sauce
Can of juice
£14.50
Chicken Mushroom & Noodle Soup
£2.60
Vegetarian Hot & Sour Soup
Hot
Suitable for vegetarians
£2.40
Crab Meat & Sweetcorn Soup
£2.70
Mixed Starter
Spring rolls, seaweed, sesame prawn on toast & hot chicken wings
£8.70
House Special Platter (For 2 People)
BBQ ribs, chicken satay skewers, crispy wonton & vegetable spring rolls
£10.00
Crispy Aromatic Duck Quarter
£8.70
Crispy Aromatic Duck Half
£15.20
Crispy Aromatic Duck Whole
£28.20
Spring Rolls with Sweet & Sour Sauce (2)
Chicken, char siu & mixed vegetables
£3.20
Crispy Duck Rolls with Hoisin Sauce (3)
£3.70
Mini Vegetable Spring Rolls with Sweet & Sour
Sauce (10)
Suitable for vegetarians
£3.20
Salt & Pepper Spare Ribs
Hot
£5.80
Spare Ribs in Honey Chilli Sauce
Hot
£5.80
Spare Ribs in Peking Sauce
£5.80
Salt & Pepper Chicken Wings
Hot
£4.70
Chicken Satay on Skewers (4)
Contains nuts
Hot
£5.20
Crispy Wonton with Sweet & Sour Sauce
£4.00
Chicken Wings in Honey Chilli Sauce
Hot
£4.70
Salt & Pepper Onion Rings
Hot
£3.50
Char Siu (Roast Pork) Curry
Hot
£5.30
Char Siu (Roast Pork) Szechuan
Hot
£5.30
House Special Szechuan
Hot
£6.10
Chicken Kung Po
Hot
Contains nuts
£5.30
Beef Kung Po
Hot
Contains nuts
£5.30
Char Siu (Roast Pork) Kung Po
Hot
Contains nuts
£5.30
Mixed Meat Kung Po
Hot
Contains nuts
£6.00
Roast Duck Kung Po
Hot
Contains nuts
£6.10
King Prawn Kung Po
Hot
Contains nuts
£6.10
House Special Kung Po
Hot
Contains nuts
£6.10
Char Siu (Roast Pork) Lar Chee
Hot
£5.30
House Special Lar Chee
Hot
£6.10
Sweet & Sour Chicken Cantonese Style
£5.50
Sweet & Sour Chicken in Batter Balls (8)
£5.50
Sweet & Sour Pork Cantonese Style
£5.50
Sweet & Sour Pork in Batter Balls (8)
£5.50
Sweet & Sour King Prawn Cantonese Style
£6.20
Sweet & Sour King Prawn Balls (8)
£6.20
Chicken Satay
Hot
Contains nuts
£5.30
Beef Satay
Hot
Contains nuts
£5.30
Char Siu (Roast Pork) Satay
Hot
Contains nuts
£5.30
Mixed Meat Satay
Hot
Contains nuts
£6.00
Roast Duck Satay
Hot
Contains nuts
£6.10
King Prawn Satay
Hot
Contains nuts
£6.10
House Special Satay
Hot
Contains nuts
£6.10
Char Siu (Roast Pork) Egg Foo Yung
£5.20
House Special Egg Foo Yung
£6.10
House Special Chilli Chicken
Hot
£6.00
Chef's Special Tangerine Chicken
£6.00
Crispy Shredded Chicken with Chilli Sauce
Hot
£6.00
Crispy Shredded Chicken with Honey & Chilli
Sauce
Hot
£6.00
Crispy Shredded Chicken with Salt & Pepper
Hot
£6.00
Salt & Pepper Chicken
Hot
£6.00
Salt & Pepper Chicken Balls (8)
Hot
£6.00
Chicken with Garlic & Chilli Sauce
Hot
£6.00
Chicken with Green Pepper & Black Bean Sauce
£5.40
Chicken with Ginger & Spring Onion
£5.40
Chicken with Cashew Nuts in Yellow Bean Sauce
Contains nuts
£5.50
Chicken with Sweet Ginger & Pineapple
£5.40
Chicken with Mixed Vegetables
£5.30
Chicken with Bean Sprouts
£5.30
Chicken with Cashew Nuts
Contains nuts
£5.50
Chicken in Black Pepper Sauce
Hot
£5.40
Chicken with OK Sauce
Contains nuts
£6.10
Fillet Steak Cantonese Style
£7.60
Fillet Steak with Ginger & Spring Onion
£7.60
Fillet Steak with Black Bean Sauce
£7.60
Crispy Shredded Beef with Chilli Sauce
Hot
£6.10
Crispy Shredded Beef with Honey & Chilli Sauce
Hot
£6.10
Crispy Shredded Beef with Salt & Pepper
Hot
£6.10
Beef with Green Pepper & Black Bean Sauce
£5.40
Beef with Mixed Vegetable
£5.30
Beef with Cashew Nuts
Contains nuts
£5.50
Beef with Ginger & Spring Onion
£5.40
Beef with Cashew Nuts in Yellow Bean Sauce
Contains nuts
£5.30
Beef with Sweet Ginger & Pineapple
£5.40
Beef in Black Pepper Sauce
Hot
£5.40
Crispy Shredded Beef in OK Sauce
Contains nuts
£6.10
Char Siu with Green Pepper in Black Bean Sauce
£5.30
Char Siu with Mixed Vegetable
£5.00
Char Siu with Ginger & Spring Onions
£5.30
Char Siu with Cashew Nuts in Yellow Bean Sauce
Contains nuts
£5.40
Char Siu with Sweet Ginger & Pineapple
£5.30
Char Siu with Bean Sprouts
£5.20
Char Siu with Cashew Nuts
Contains nuts
£5.40
Char Siu in Black Pepper Sauce
Hot
£5.30
Roast Duck in Black Bean Sauce
£6.20
Roast Duck in Peking Sauce
Hot
£6.20
Roast Duck with Bean Sprouts in BBQ Sauce
£6.20
Roast Duck with Mushrooms
£6.20
Roast Duck with Roast Pork
£6.20
Roast Duck with Sweet Ginger & Pineapple
£6.20
Roast Duck in Black Pepper Sauce
Hot
£6.20
Mussels with Black Bean Sauce
£6.00
King Prawn with Green Pepper & Black Bean Sauce
£6.00
Squid with Ginger & Spring Onions
£6.00
Garlic & Chilli Squid
Hot
£6.00
King Prawn with Ginger & Spring Onion
£6.00
King Prawn with Sweet Ginger & Pineapple
£6.00
Salt & Pepper King Prawns
Hot
£6.00
King Prawn with Mixed Vegetables
£6.00
King Prawn with Cashew Nuts
Contains nuts
£6.00
King Prawn with Cashew Nuts in Yellow Bean Sauce
Contains nuts
£6.00
King Prawn with Honey & Chilli Sauce
Hot
£6.00
King Prawn in OK Sauce
Contains nuts
£6.00
Grilled Chicken Breast with Chips
£6.60
Chicken Maryland with Chips
£7.10
Chicken Omelette with Chips
£6.20
Mushroom Omelette with Chips
Suitable for vegetarians
£5.80
Plain Omelette with Chips
Suitable for vegetarians
£5.60
King Prawn Omelette with Chips
£6.60
Char Siu (Roast Pork) Omelette with Chips
£6.20
House Special Omelette with Chips
£6.40
Char Siu (Roast Pork) Fried Rice
£6.00
Mixed Vegetable Fried Rice
£5.60
Char Siu (Roast Pork) Chow Mein
£6.10
Singapore Rice Noodle
Hot
£6.40
Mixed Vegetable Chow Mein
£5.60
Sweet & Sour Tofu
Suitable for vegetarians
£4.90
Mixed Vegetables with Curry Sauce
Hot
Suitable for vegetarians
£4.60
Mixed Vegetables with Szechuan Sauce
Hot
Suitable for vegetarians
£4.60
Mixed Vegetables with Kung Po Sauce
Hot 
Suitable for vegetarians
Contains nuts
£4.60
Mixed Vegetables with Lar Chee Sauce
Hot
Suitable for vegetarians
£4.60
Mixed Vegetables with Sweet & Sour Sauce
Suitable for vegetarians
£4.60
Mixed Vegetables with Satay Sauce
Suitable for vegetarians
Contains nuts
£4.60
Mixed Vegetables with Black Bean Sauce
Suitable for vegetarians
£4.60
Mixed Vegetables with Egg Foo Yung
Suitable for vegetarians
£4.60
Salt & Pepper Tofu
Hot
Suitable for vegetarians
£4.90
Stir Fried Bean Sprouts
Suitable for vegetarians
£3.40
Stir Fried Mushrooms
Suitable for vegetarians
£3.40
Stir Fried Onions
Suitable for vegetarians
£3.40
Hot Chilli & Pepper Tofu
Hot
Suitable for vegetarians
£4.90
Boiled Rice
Suitable for vegetarians
£2.20
Fried Rice
Suitable for vegetarians
£2.30
Chips
Suitable for vegetarians
£2.30
Soft Noodles
Suitable for vegetarians
£3.60
Salt & Pepper Chips
Hot
Suitable for vegetarians
£3.70
Satay Sauce
Contains nuts
£2.30
Kung Po Sauce
Hot
Contains nuts
£2.30
Rice & Noodles with Sauce
£4.40
King Prawn Thai Curry Green
£6.20
King Prawn Thai Curry Red
£6.20
Char Siu (Roast Pork) Chop Suey
£5.20
Banana Fritter with Syrup
£2.40
Pineapple Fritter with Syrup
£2.40
Set Meal for Two Regular
2 x soups (chicken noodle soup OR chicken sweetcorn soup OR chicken mushroom soup)
2 x appetisers (prawn toast OR barbecued ribs OR spring roll)
2 x main courses (any one of the chicken OR beef OR pork OR vegetable dishes)
2 x fried rice OR boiled rice OR chips
Banana OR pineapple fritters with syrup
Prawn crackers
Duck, prawn, seafood dishes £1 extra
Noodles 50p extra
£25.80
Set Meal for Two Special
2 x soups (chicken noodle soup OR chicken sweetcorn soup OR chicken mushroom soup)
2 x appetisers (prawn toast OR barbecued ribs OR spring roll)
2 x main courses (any one of the chicken OR beef OR pork OR vegetable dishes)
2 x fried rice OR boiled rice OR chips
Banana OR pineapple fritters with syrup
Prawn crackers
Duck, prawn, seafood dishes £1 extra
Noodles 50p extra
£26.80
Set Meal for Three Regular
3 x soups (chicken noodle soup OR chicken sweetcorn soup OR chicken mushroom soup)
1 x quarter crispy aromatic duck (served with pancakes & sauce)
3 x main courses (any one of the chicken OR beef OR pork OR vegetable dishes)
3 x fried rice OR boiled rice OR chips
Banana OR pineapple fritters with syrup
Prawn crackers
Duck, prawn, seafood dishes £1 extra
Noodles 50p extra
£34.80
Set Meal for Three Special
3 x soups (chicken noodle soup OR chicken sweetcorn soup OR chicken mushroom soup)
1 x quarter crispy aromatic duck (served with pancakes & sauce)
3 x main courses (any one of the chicken OR beef OR pork OR vegetable dishes)
3 x fried rice OR boiled rice OR chips
Banana OR pineapple fritters with syrup
Prawn crackers
Duck, prawn, seafood dishes £1 extra
Noodles 50p extra
£35.80
Set Meal for Four Regular
4 x soups (chicken noodle soup OR chicken sweetcorn soup OR chicken mushroom soup)
1 x half crispy aromatic duck (served with pancakes & sauce)
4 x main courses (any of the chicken OR beef OR pork OR vegetable dishes)
4 x fried rice OR boiled rice OR chips
Banana OR pineapple fritters with syrup
Prawn crackers
Duck, prawn, seafood dishes £1 extra
Noodles 50p extra
£44.80
Set Meal for Four Special
4 x soups (chicken noodle soup OR chicken sweetcorn soup OR chicken mushroom soup)
1 x half crispy aromatic duck (served with pancakes & sauce)
4 x main courses (any of the chicken OR beef OR pork OR vegetable dishes)
4 x fried rice OR boiled rice OR chips
Banana OR pineapple fritters with syrup
Prawn crackers
Duck, prawn, seafood dishes £1 extra
Noodles 50p extra
£45.80
Contact Us
Find Us
29 Greendykes Road, Broxburn, EH525AF
We deliver to
EH28, EH29, EH49, EH52